No.312 (Czech) Squadron came to RAF Harrowbeer from RAF Fairwood Common on the 3rd July 1942. They had (apparently) been in the thick of the action and being posted to Devon was to give the Squadron time to recover from some bad losses. They stayed for five months, leaving on the 10th October 1942. The Squadron's identification letters were DU. They flew Spitfire VBs and Hurricanes.
The Squadron had been formed on the 29th August 1940, with pilots who had escaped from Czechoslovakia. The Squadron moto is "Not Many, but Much". In 1945, at the end of the war, the Squadron was transferred to the Czech Air Force and was officially disbanded from the RAF in Feb 1946. A fuller description of the Squadron's travels and exploits can be found here; No.312 Squadron
During their stay at Harrowbeer, they were filmed by the Czech Film Unit and this footage appeared several years ago in a Czech TV program, a copy of which has been passed to us. The commentary is in Czech! We have been unable to discover anymore information about this program, or who has the copyright. Even the BBC were unable to contact anyone when they wanted to use some shots in a program about Harrowbeer. The stills below are not brilliant quality but they are unique(?) colour images of RAF Harrowbeer.
The events being filmed are an inspection and medal presentation ceremony, at which Frank Mares is presented with his DFM, the first Czech Pilot to be so honoured. Frank died on the 10th February 2008. His book, "Mission Accomplished" was successfully published (by GrubStreet) in May 2007. It is (probably) available from all good book shops and is an excellent read!
The date is September 26th 1942. Harrowbeer's ORB records that this was an "Anniversary Celebration" for 312 Squadron. This was to have been held on the 5th September, the actual anniversary date but because of the death of the Duke of York it was postponed to the 26th. There is a Mass (held in one of the Bellman Hangars) prior to an inspection of the Squadron by General Viest, who also presented some of the Pilots with Czech Decorations. Then, A V M Orlebar, CBE, DFC, Air Officer Commanding 10 Group, presented the Squadron with their Crest, duly signed by His Majesty the King, and also presented Flt/Sgt Mares with his DFM. (Frank was posted from 312 on the 15th September and came back for the day to receive his medal)
The footage continues with shots of Pilots outside the Officers Mess (some of whom are Polish) and then there is film of a 312 Sqdn Spitfire returning from a sortie, then being rearmed and refuelled. The film ends with the Squadron's 13 aircraft flying off to Portreath, in Cornwall.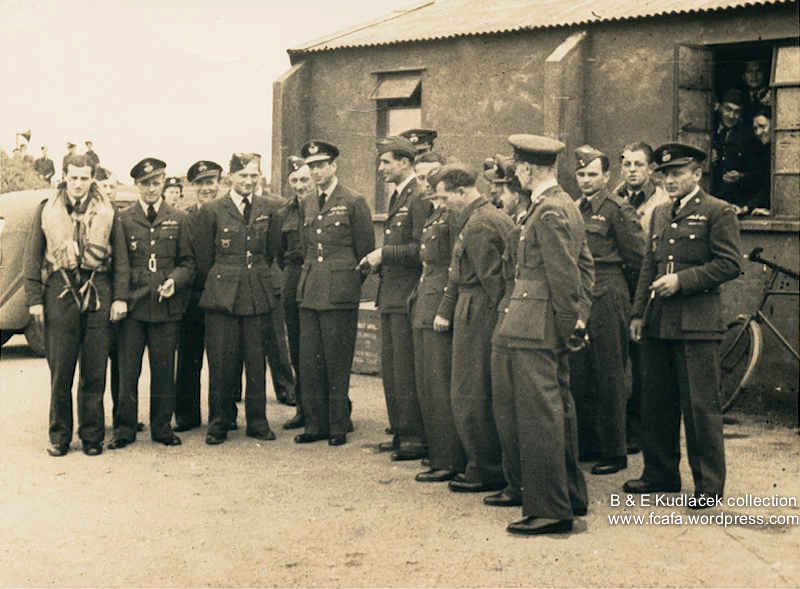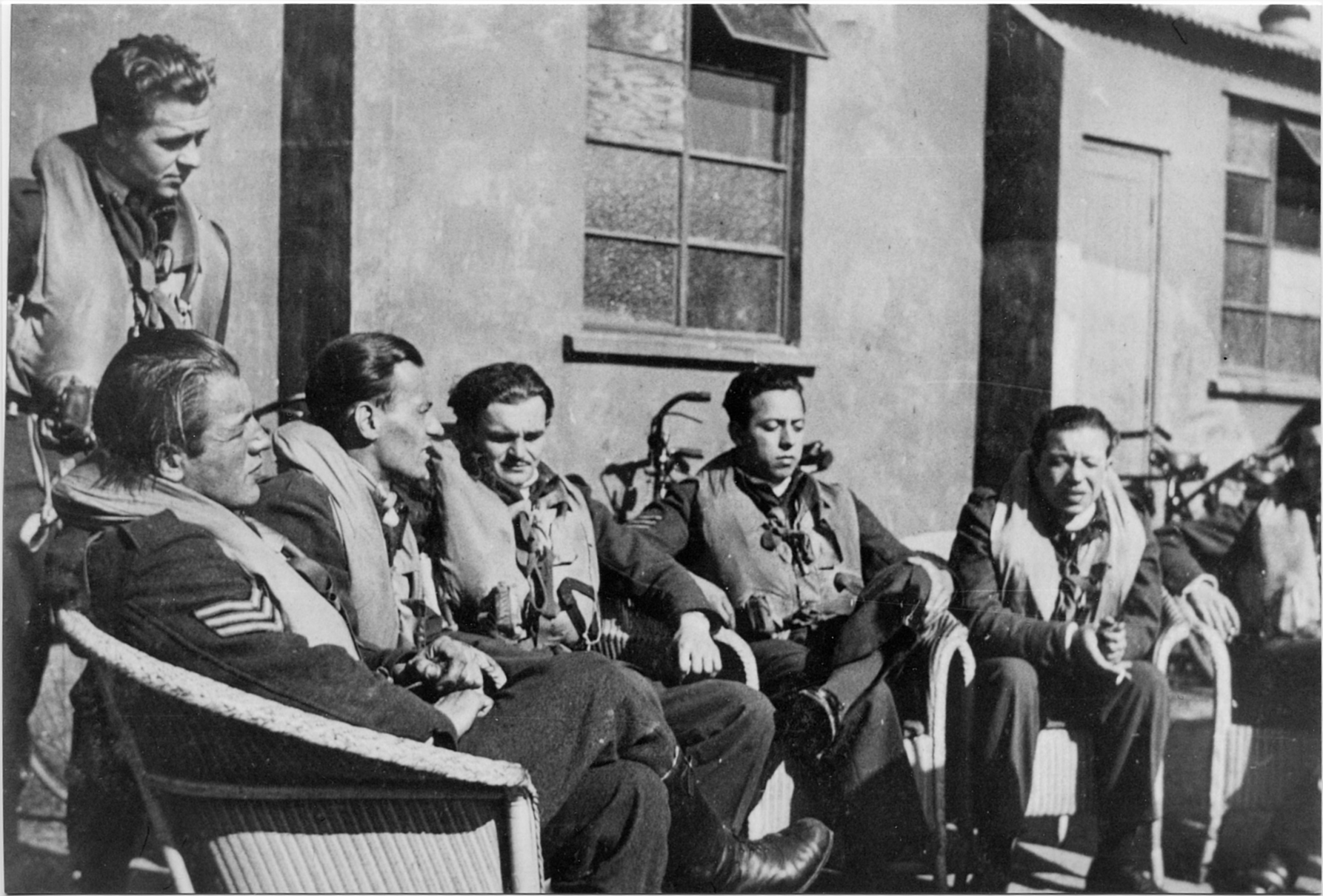 'B' Flight Pilots at Readiness. Tony Liskutin is standing on the left.
Courtesy of Tony Liskutin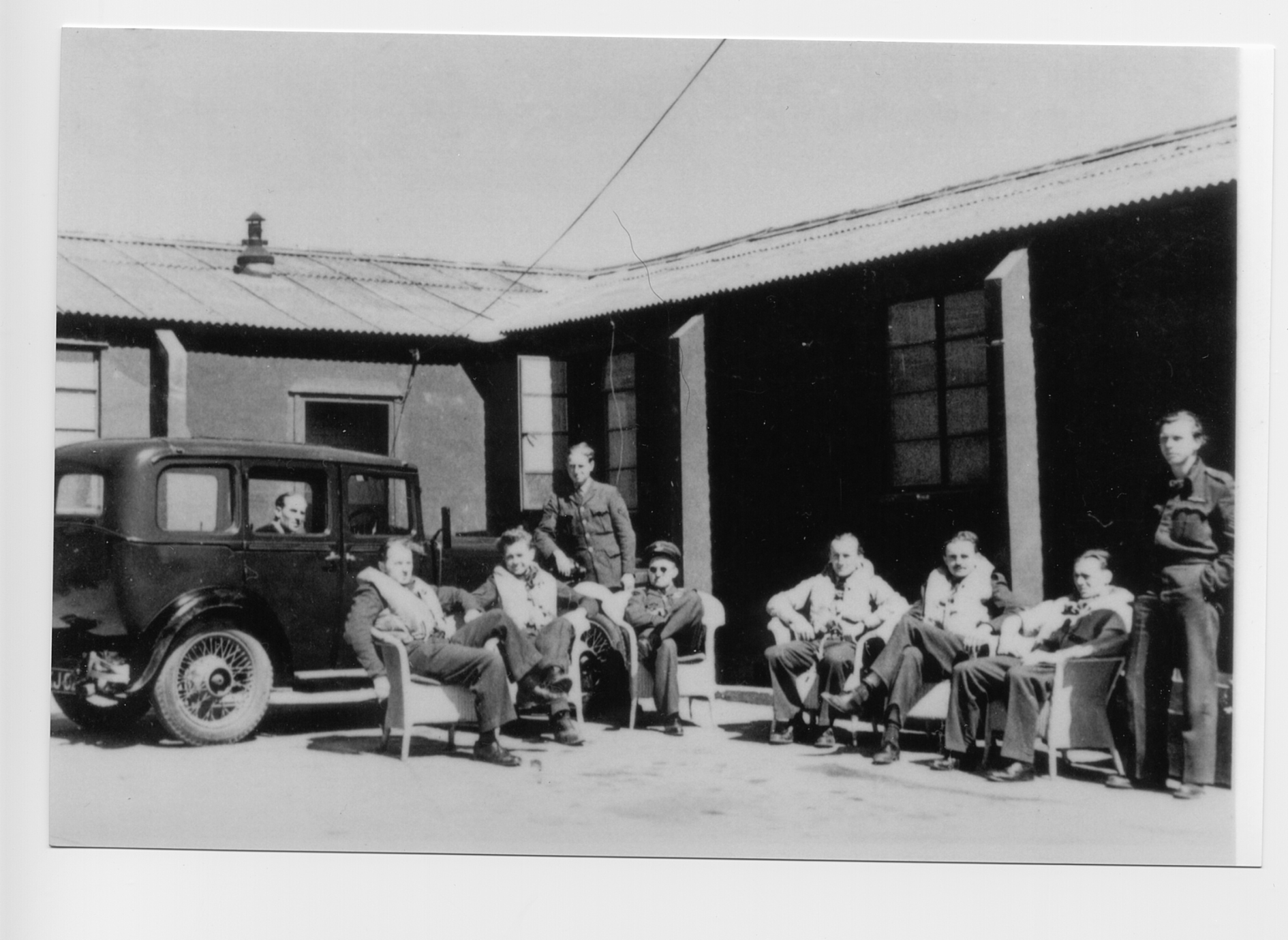 Tony Liskutin 2nd left (seated)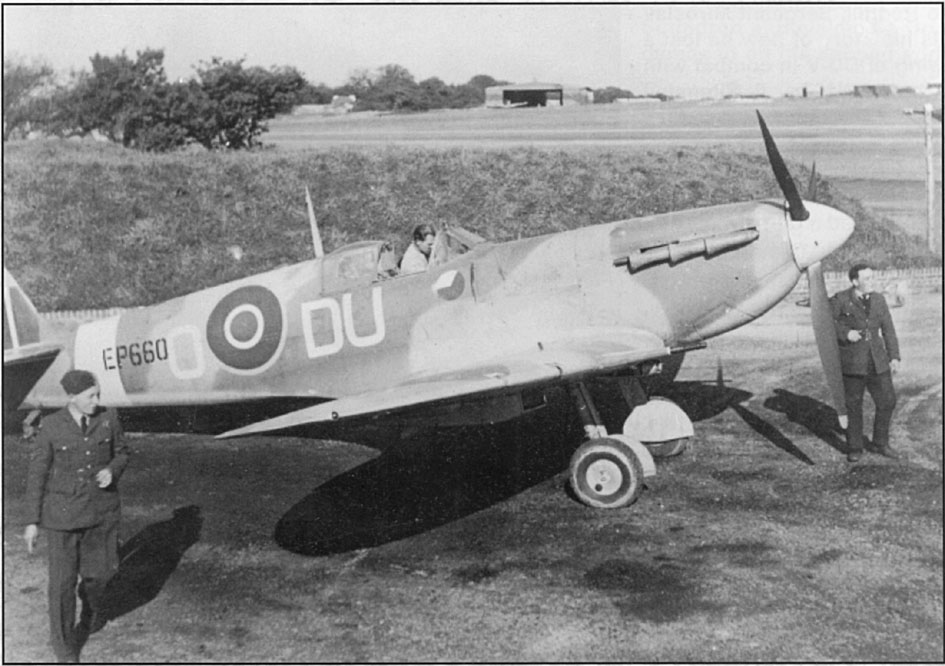 Tony Liskutin in his Spitfire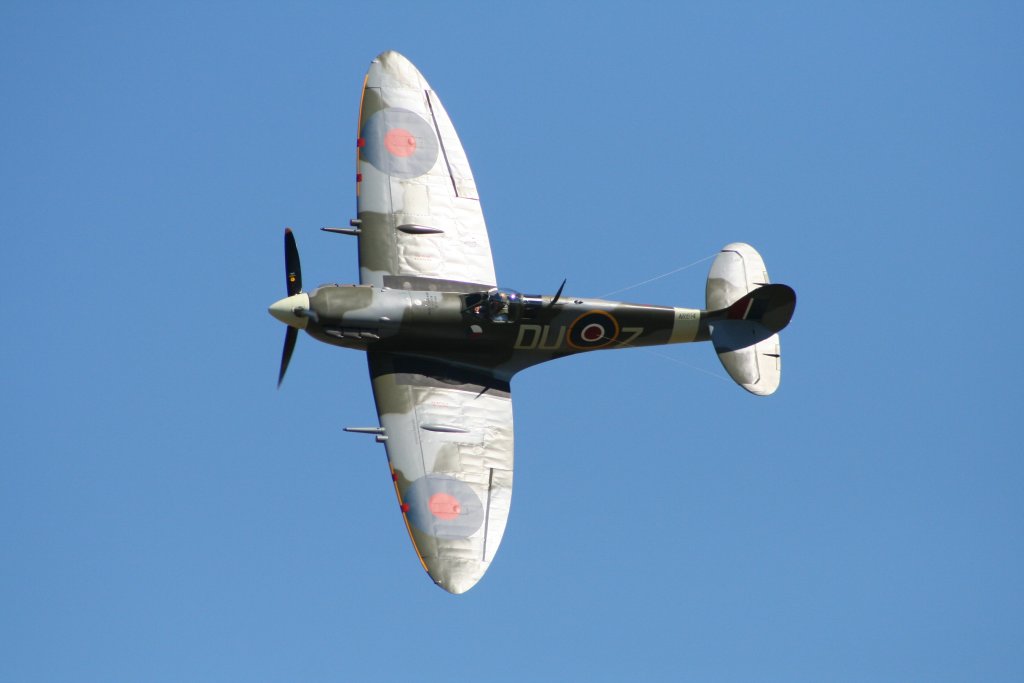 Several of 312 Squadron's Spitfires are still flying today. This is DU-Z which is based in Seattle.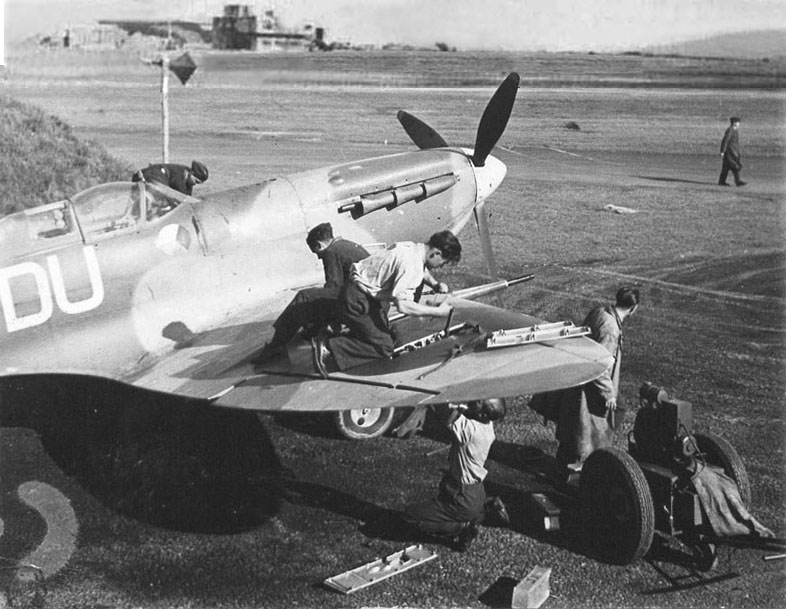 Ground Crew service and re-arm a 312 Squadron Spitfire at Harrowbeer in 1942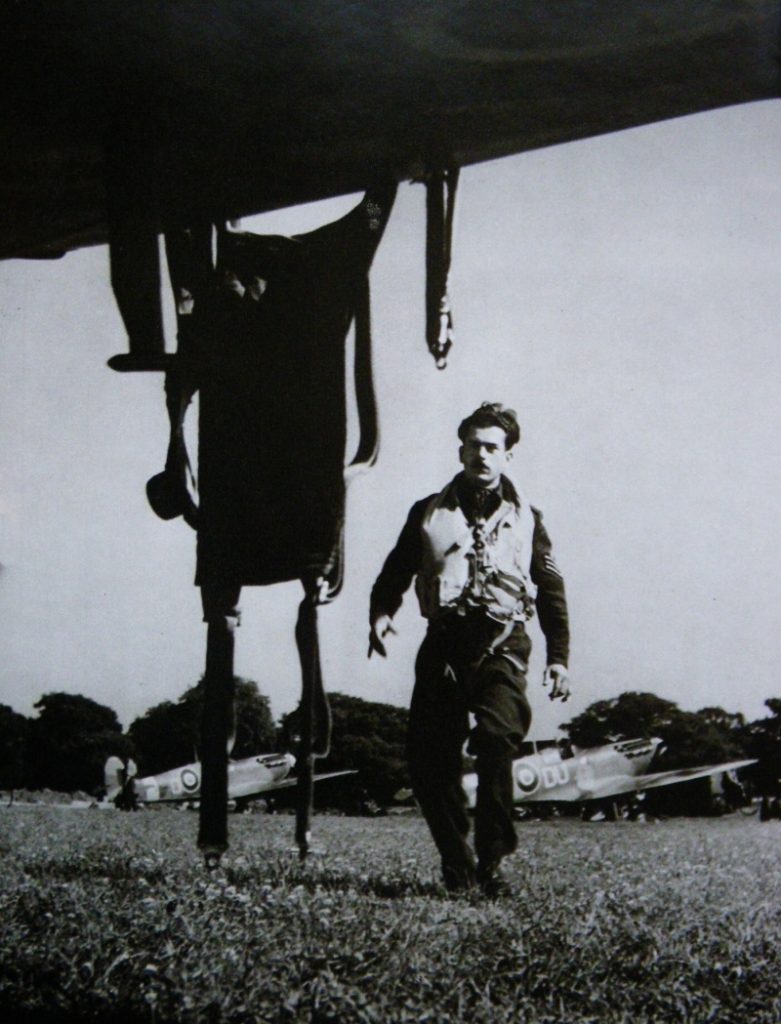 Frank Mares runs to his aircraft. Probably a staged photo as he was the first Czech Pilot to be awarded a DFM. He was presented with his medal at Harrowbeer in Sept 1942.